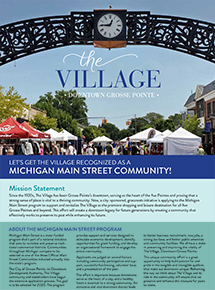 Join The Village in Their Application for Main Street Michigan Program
DATE:
December 06, 2019
LOCATION:
Kercheval Ave. between Cadieux & Neff, Grosse Pointe, MI --
TIME:
DESCRIPTION:
Grosse Pointe Village Applies to Main Street Program
The City of Grosse Pointe, its Downtown Development Authority, The Village community and stakeholders have begun the extensive application process to be one of 3 communities in Michigan selected to participate in the Main Street program. Michigan Main Street is a state-funded program that's part of a national initiative that aims to revitalize and preserve traditional commercial districts.
The program provides support and services designed to stimulate economic development, identify opportunities for grant funding, and develop an organizational framework to engage the entire community. Applicants are judged on several factors including community participation and support, successful fundraising, volunteer base, and a presentation of the plan.
The Main Street Application is due on December 6, 2019.
Find out how you can help by serving on a committee or volunteering. Join our email list for upcoming information and opportunities. Email us at MainStreetGrossePointe@gmail.com