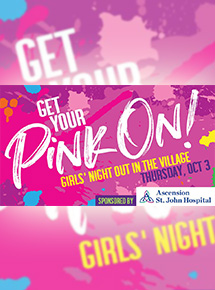 Get Your Pink On! Girls' Night Out in The Village
DATE:
October 03, 2019
LOCATION:
Kercheval Ave. between Cadieux & Neff, Grosse Pointe, MI --
EVENT TIME:
5:30 PM
- 9:00 PM
DESCRIPTION:
Designed to raise awareness of women's health, Ascension St. John returns as sponsor of this evening event that combines shopping, health information and girl time. Stores offer special deals and refreshments. Pick up your Passport at

Wilson Senior Resource Center at

648

St. Clair Ave.,

starting at 5:30 and visit stores throughout the Village until 8:00 and meet health professionals while you sip and shop. Take the Passport to After Glow reception at Scott Shuptrine from 8:00 -9:00 where raffle prizes are drawn. New this year is a Mobile Cardio unit from Ascension joining the Mobile Mammogram unit both in place 4:00- 8:00 p.m. Additional sponsors include Genesis Automotive and Print Xpress.